By Mandy Sage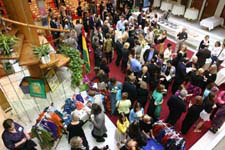 Women in Progress had its first major fundraising event on April 8, 2006 at the Ghanaian Embassy in Washington D.C. Organized by former WIP volunteer Emilie Kimball and her parents Phil and Kathy, along with the help of Brooke Olster and many other past volunteers, the fundraiser spread the word about Women in Progress while celebrating in Ghanaian fashion.
Guests enjoyed traditional Ghanaian food and drink, kindly provided by the Ghana Café, and were entertained by the Anasegromma of the Ghana dance and drumming group. In his speech, Ghanaian Ambassador Fritz Poku commented on the work ethic of 16 year-old Emilie Kimball, calling her "his hero." Emilie also spoke and hosted a small fashion show displaying some of the newest Global Mamas designs. And finally, WIP co-founder Kristin Johnson spoke on the continued growth and success of the organization, sharing some of the incredible statistics achieved by Women in Progress in the past three years. A short video on WIP was shown, giving guests a view of what life is like in Ghana and introducing them to a few of the Global Mamas. They were delighted by the grinning faces and touched by the success stories, evident by the outbursts of laughter and warm smiles throughout the audience.
Thanks to the kind donations of its guests, Women in Progress raised over $15,000 at this event. But the event was not just about raising funds, it was about opening hearts as well. "Not only did we raise money, but we also raised awareness that will continue to support WIP for years to come," said co-organizer Brooke Olster. "We should all be extremely proud of ourselves. I am amazed by the amount of positive responses we received for the work we contributed to in Ghana and how interested everyone was in learning more."
Proceeds from the event will go to buying a large amount of cotton calico fabric in bulk so that a better rate and assured quality is obtained. The calico will be placed in a revolving loan fund so members of the Global Mamas cooperative are able to buy better quality calico at a discounted price into the future.
___________________________